Hi, welcome to Eric's Drum Lab. I'm Eric Hassler. Whether you've been drumming for awhile or just getting started...
...the fastest way to get better at drumming is to find an experienced teacher who can help you build a strong musical foundation, identify your strengths and weaknesses, and work with you to set practical goals for improvement.
"Goals," you say? That sounds like homework.
Sure there's work, but it's DRUMMING work, and what's more fun than that? Besides, without goals and some direction, you might end up practicing the same things over and over, or get caught up scrolling YouTube for hours. You might even get bored, frustrated and give up. That would be sad, because drums are fun, and drummers are fun, and the world needs more of both!
A little secret
When I started playing drums at age 10, I was probably THE worst drummer to ever pick up sticks. I stunk big time! I had no natural ability. I couldn't even clap to the beat of songs on the radio. I'm not kidding!
So no matter what your current ability is, I guarantee you I was worse! I got MUCH better though, and I can help you get better too!
I've been drumming for most of my life. I still love it. Several years ago, a pianist I was playing with suggested I try teaching, so I did. I quickly realized that I love teaching drums too! And I'm good at it.
A little history if you're interested...
I played drums and percussion throughout mid school and high school. Competitive marching band, concert and symphonic band, and jazz band. I was an all-state percussionist, too. Pretty much your classic drum nerd.
Weekly drum lessons weren't in the family budget, so I practiced, listened and worked a lot on my own. Without drum lessons however, I learned everything slowly and the hard way! It's not the best approach. Sure, as musicians (and aspiring musicians) we can figure some things out on our own—and these days there's lots on YouTube to watch—but a good teacher can guide in ways that an instructional video can't. But I digress...
After high school I headed to Los Angeles. I was accepted into a well-known music school there. While grinding away at my stupid day job earning cash for tuition, another musician friend told me about a place called The Grove School of Music. When I discovered who was teaching there I opted for Grove, and absolutely loved it!
I was fortunate to study with David Garibaldi, Luis Conte, Peter Donald, Dan Greco, David Crigger, Chuck Silverman, Brian Kilgore, and many other amazing and inspiring teachers, plus some epic master classes with Jeff Porcaro, Alex Acuna, Ed Thigpen, Emil Richards and others. I literally still dream about that time of my life.
Over the years I've continued to play (and study!) music. I've been lucky to play in a variety of bands over the years, covering a range of musical styles: blues, jazz, funk, rock, pop and country. I've played for crowds of 20 people to 20,000 people.
I've been lucky to play in a variety of bands over the years, covering a range of musical styles: blues, jazz, funk, rock, pop and country. I've played for crowds of 20 people to 20,000 people.
These days I play drums with a diversely talented array of Arizona musicians whom I consider to be my extended family.
I'm always interested in other projects too: Drop me a line.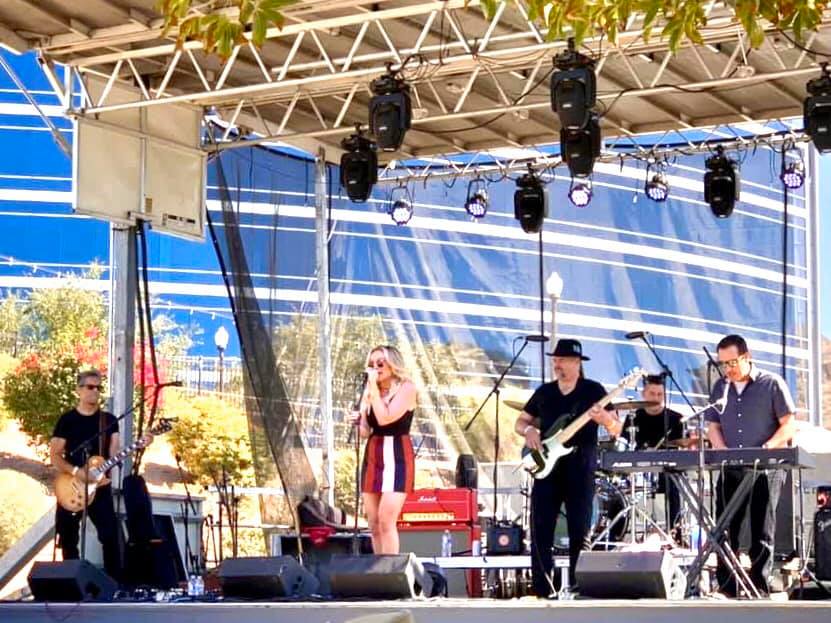 Play-alongs
Here's a video of me drumming to a great play-along track from Jim Riley's book "Survival Guide for the Modern Drummer." This is the type of work my students do here as well! Not only does it help identify areas that need work, it's really fun!
Drum Covers
Learning a song note-for-note is a great way to hone your reading skills, listening skills, build on your vocabulary of grooves and fills, and of course practice your sense of timing and dynamics. "Figure it Out" by Royal Blood, is a song that a few of my students were working on, so I "figured" I'd better learn it too! Tip of the hat to Royal Blood's drummer, Ben Thatcher!
Loops
Repetition is an important part of practice. Playing something well once, doesn't mean you own it. To that end, I like creating musical loops to play with. You can build loops in Logic, GarageBand or any other DAW. I can show you how. This loop is only 60 seconds (for Insta), but I played this 40+ times before I was relatively satisfied.
FREE Consultation/Mini-Lesson.
Let's meet and drum a little bit before officially diving into lessons. It's a nice way to break the ice, talk about your musical interests, your goals and expectations, and how I can help. We'll hit the pads and drums a little too.
It's totally informal, takes 30 minutes or so, and is 100% free. Completing the form below will give you access to the Student Portal, my calendar and availability.
Note: This is a one-time offer for new students. Canceling a reservation revokes the offer, so if you do book a consultation, please plan to make it. 🙂
This form collects credit card data to help confirm your identity.
You will NEVER be charged without prior consent, ever.